Android Keyboard Part 3: TextInputLayout
By now you've probably noticed the fancy moving hints above the text views in the last two posts. How does that work? The answer is incredibly simple: the TextInputLayout. Added as part of the Design Support Library, TextInputLayout wraps a text field and gives you a lot of nice design options that are very easy to set up. Here's an example of what they can do.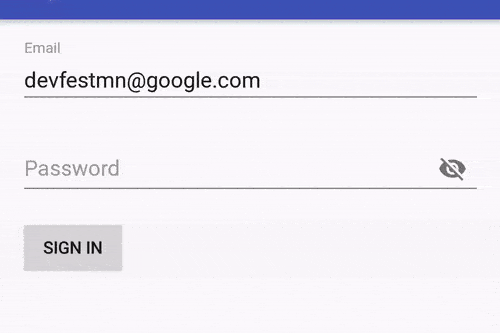 There are a couple things going on here:
The password hint moves out of the way
The wrong password error message is much prettier than what you get with editText.setError()
The toggle changes to password visibility
All of these are built in feature of TextInputLayout! Let's see how they work
Setting up a TextInputLayout
Before you start, TextInputLayouts are part of this design support library, so add
to your build.gradle.
In order to use a TextInputLayout, simply wrap one around a TextInputEditText. TextInputEditText is a special type of EditText that's designed to work well inside a TextInputLayout, and that's why so much of this works. Here's the xml I used to create the password field above.
Because I'm using a TextInputEditText, the hint will automatically animate, no extra work required.
Take a look at theapp:passwordToggleEnabled="true" line inside the TextInputLayout. That's all you need to get a password toggle!
Showing errors
Errors are displayed using TextInputLayout#setError(String). Note that this is called on the parent layout, not the text field. Here it is in Kotlin:
Set the error text to display an error, or set it to null to hide it. That's all!
Summary
TextInputLayouts are a great way to give your app a modern, professional feel, and they're incredibly simple to use. Put them in all your apps!